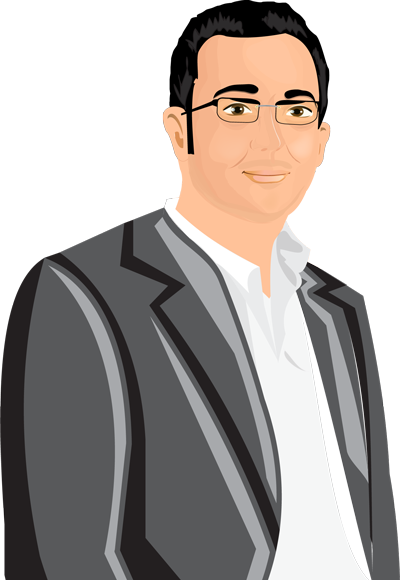 I am Anirudh Babbar, working in the field of web development from last 8 years of experience. I have worked on many projects with my dedicated team.
I introduce myself as a self-motivated and passionate explorer with a fire and strive for challenging work environment. With great teamwork, I have explored new ways in life. I have wide array of skills and experience and know how to make them in use effectively. I excel at combining design concepts, unique thoughts and business milestones by making all of them work with each other.
I use my techniques and ways with my team to make them learn and to learn from themselves. I choose to be a web developer because I feel that it is a world of creativity. Like a scientist work with formulas and theories, similarly I work with codes and designs. I believe that we can carve any design in our codes and can give extraordinary developments. My work is always up to mark with the help of my team. I always try my best to have new projects and to have bizarre achievements.
Over the past 8 years, I have worked for clients like Movified, F2C India, Primus Health Care, E Portal, Milk Analyser to name a few while successfully completing over 100 projects.
As my work, I have done many projects and have great experience in DRUPAL, JOOMLA, SEO, Jquery, WORDPRESS and more. I love to make new ways and designs to have a new road in life. I always make use of old methods in new ones to have a unique blend. I have made my career with my knowledge and my experience. I have learnt many new things and started working according to that. Everyday I work with new project; I feel that I have something new to learn. I never give up in my life because mistakes give us experience as well as chance to learn.
In my leisure pursuit, I akin to reading books like The Secret by Rhonda Byrne, The Magic of thinking Big by David J Schwartz, The Monk Who Sold his Ferrari by Robin S Sharma, The Bhagvad Gita by Lord Sri Krishna and lots more. I believe that one must utilize their time in effective way which gives them some knowledge and new ways in life. I am always available to work on great and interesting projects. I feel that working and learning never ends.
With my hobbies, I also do my work with best efforts. I never sit idle and waste my time. I feel that if I have creativity then I will hone it in better way. Once I will be apart from my thoughts, I will be away from creativity. It fully lies in mind and style.

Work with me and feel the change!
---
Get in touch
Phone Support – 09540491178 / 09812430938 | Skype – anibabbar | Email – support@thinkncode.com / anibabbar@gmail.com | Facebook – https://www.facebook.com/thinkncode | Twitter – https://twitter.com/anibabbar