Hello readers, this is going to be a small review of two of the nicest plugins used to clone content in wordpress.
So we will be discussing
Duplicate Post
URL Cloner
Duplicate Post WordPress plugin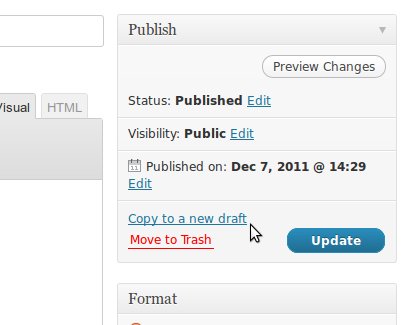 We have been using this plugin from last few months in our client websites and found it very good, so just thought it to share with our readers. Following description is what plugin developers have to say about their plugin, and we personally at think n code believes everything they are saying is true.
As we mentioned before, we are using this plugin, we fully recommend it to readers and wordpress lovers across the world.
This plugin allows to clone a post or page, or edit it as a new draft.
In 'Edit Posts'/'Edit Pages', you can click on 'Clone' link below the post/page title: this will immediately create a copy and return to the list.
In 'Edit Posts'/'Edit Pages', you can click on 'New Draft' link below the post/page title.
On the post edit screen, you can click on 'Copy to a new draft' above "Cancel"/"Move to trash".
While viewing a post as a logged in user, you can click on 'Copy to a new draft' as a drop down link under "Edit Post" in the admin bar.
---
URL CLONER – to duplicate other sites content
Download
Now the time is to move on to another plugin for cloning, we haven't yet tested it but have been getting good recommendations about it. So today we are going to discuss about URL Cloner.
As per plugin developers, URL Cloners Copies content from one site to another based on the URL. Uses the Clear Read API. You can select the post type, publish status, category, author, and set original publish date.

We will be experimenting with a wordpress.org page and will try to clone it on one of our other site.
After activating it, we found a new option under Tools by the name of URL Cloner,
We have added a link and chosseen post status as draft, we also had a option to select category, Post type, author and Original published date. Till now its impressive, now its I just have to check how it worked in my site by previewing the saved draft.
Seems perfect, though i would never suggest anyone to clone some one else content, but here i just wanted to check whether this plugin works or not, and it does, below i am attaching screenshots of original post on wordpress.org and cloned content draft preview on our site.
We will give it 5/5 stars for cloning content.
As per wpmu.org, This plugin (URL – CLONER ) is especially helpful for those difficult content migrations where the original site is using an incompatible CMS or much older version for which there is no exporting tool.