What is a CMS ?
A  content management system is a document centric collaborative application for managing documents and other content .The CMS was developed to make the website Designing and developing more flexible  without writing a single line of code you can Create a top-grade Website . Different CMS has different functionalities. Most of the CMS was based on php and mysql. You can easily edit ,publish and modify the data from beckenned panel by using CMS on your website. Many Popular Websites are using some of the free and publically famous and available CMS like wordpress ,drupal and zoomla.A CMS is multiuser you coud sign as admin n give permissions to other it has multiple permissions level editor,writer,data-entry, designer,coder project manager etc.CMS Treat content as individual piecess (node).
---
Drupal as a CMS.
Drupal is known as the best CMS. Drupal is proven itself is being able to support even the most busy website.drupal is highly praised by the developers beacause of its  functionality.Drupal is called a complete CMS.According to alexa.com 39 of top 10,000 websites are using Drupal.On the code contributing site drupal is very strong 100 of people contributing code for drupal every week.Drupal is not easy for design requirments but if you have frequent updates for your site drupal is best for you.Drupal automatically handled user accounts so if you have multiple contributor drupal is there for you.
---
Drupal Terminology (Modules, Themes, Nodes, Blocks)
Modules
You can download and install a module in Drupal to increase its functionality.It is similaer to plugins in wordpress.The contributed modules extend and customize drupal functionality and make hard steps easy for you.
You can install modules by going to Modules > Install new module > Now here you have two options install by URL or you can install a downloaded module from your system. > Click Install > A new window appear and ask you weather to enable module or skip to enable. After enable your module > Go to module again > And Click Save configuration.And your module will be installed but note some modules requires more steps to do for this you can read about those module from drupal.org.
Step 1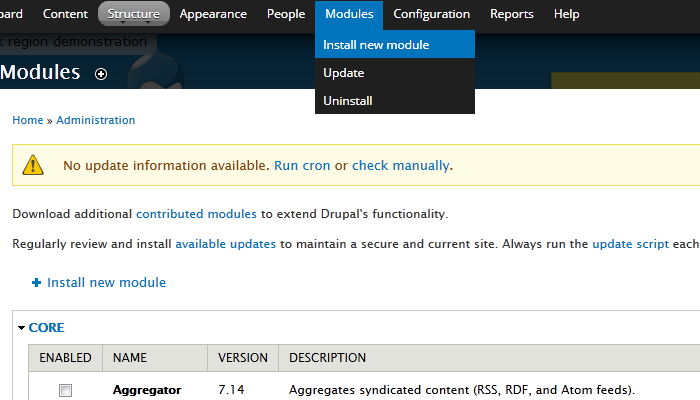 Step 2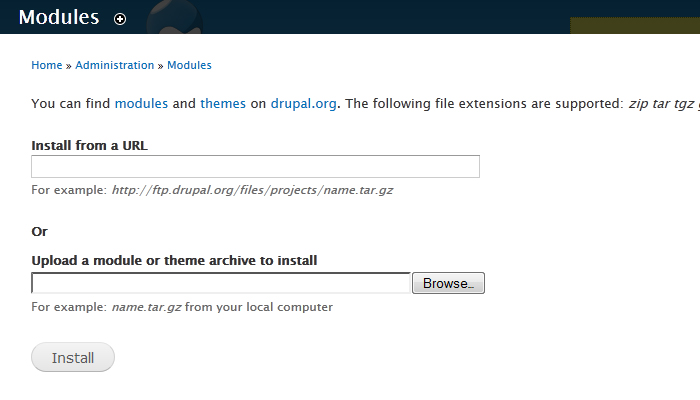 ---
Themes
Theme system is a way to "skin" your wesite. By using a theme you can change the look of your site.Themes allow you to cahnge the look of your drupal site.You can use themes created by others or you can also create your own theme.Drupal itself has three own themes.To upload a new theme is a very simple task what you need to do is download a theme file which is compatible to your drupal version > Click to appearance > Install new theme > > Now here you have two options install by URL or you can install a downloaded theme from your system > Click Install > Click administer > themes and enable the new theme.
Step 1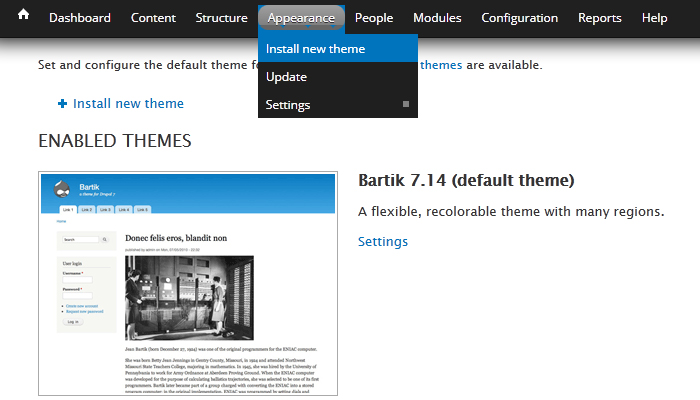 Step 2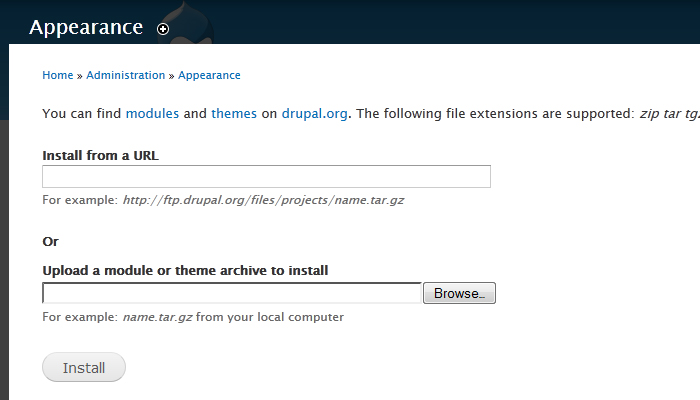 ---
Nodes
Drupal treat content as individual pieces and these indivisual pieces are called nodes.A node is any posting, such as a page, poll, article, forum topic, or blog entry.Treating content as nodes increase the flexbility of a site.
---
Blocks
Blocks are the boxes which displayed in the area of your website.In which you display your content .Where a block will apear is depend upon the the theme and the block settings.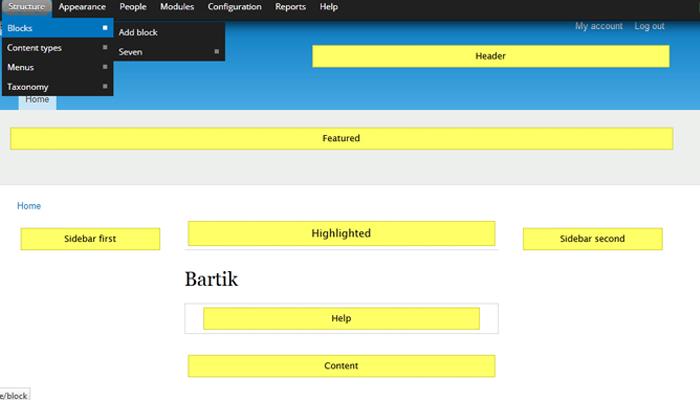 You can create your own block login to your drupal website go to  structure > Block >Add block > Enter Title > Enter Description > Write text to display in the body of your block > Select region where you want your block to be displayed > Save Block.
step 1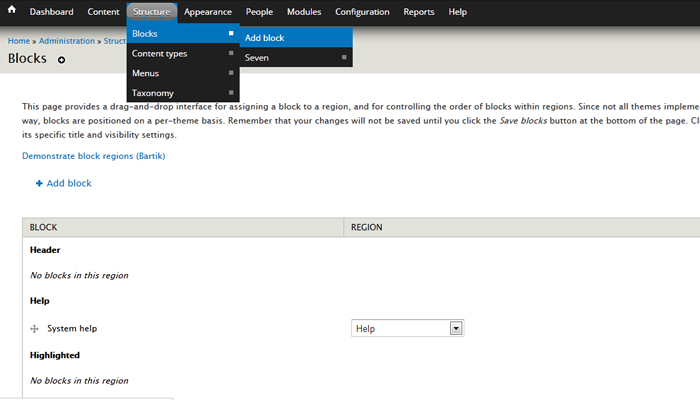 step 2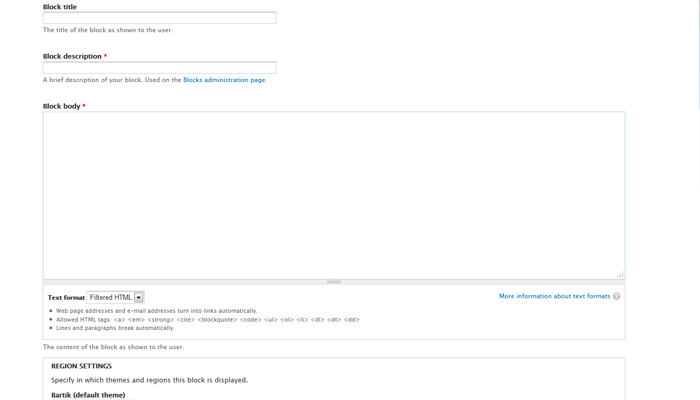 ---
How to Install Drupal ?
Go to  http://drupal.org/project/drupal.
Click the  "tar.gz" or "zip" file link beside the version of Drupal you want to download.
Log in to your hosted account's control panel
Create a directory and upload the downloaded zip file of drupal into it
Uncompress or Unarchive the file on the server
Rename the folder from its current name.
Register a Domain Name e.g. http://example.com.
Configure your hosting account to use this domain name.
Point the domain name to your new folder/directory, which contains the uncompressed Drupal files
You must create a new, empty database for Drupal to use. You must also add a user who has full access to this newly created database.
Create a new Database using your ISP's Control Panel.
A name for the database to be created (usually a shorthand version of the site name)
A username and
A password
To run the Drupal installation scriptUsing your web browser, navigate to the base URL of your new website,
e.g. http://example.com. (If you have registered a new Domain name and it has has yet to go into effect,
it is possible that you will still be able to access the website with a link provided by your ISP or even using a
numeric IP address.) When you go to your new website, you should see the Drupal installation page. The installation
wizard will guide you through the process of setting up your Drupal website.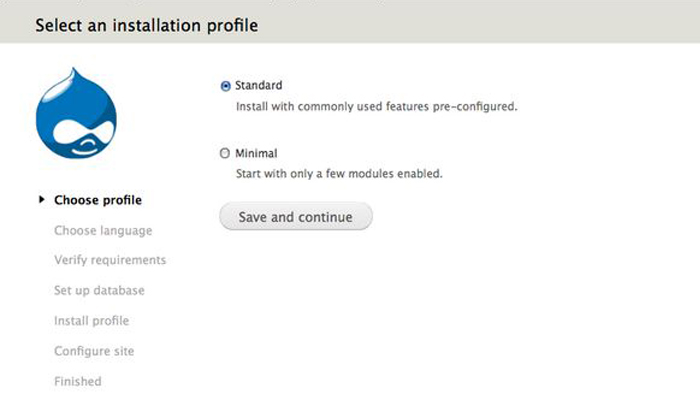 On the Select an installation profile page, select Standard. Click Save and continue.
On the Choose language page, select English. Click Save and continue.
On the Database configuration page, select the type of database that you are using. Type the database name, database username and database password (the same ones you used to set up your database).
Please note: If your database host is located on a different server, if your database server is listening to a non-standard port, or if more than one application will be sharing this database then you can configure Drupal options for this by clicking the Advanced options link.
Click Save and continue. The Installing Drupal page is displayed.

On the Configure site page, do the following:
In the Site name field, type the name you want to give your site. In the Site email address field, type the email address that automated messages from your Drupal site will be sent from.
In the site maintenance account section, type a username, email address and password to use for the maintenance account.
In the server settings section, select a country from the list and then select a time zone.
If desired, select Check for updates automatically and Receive email notifications (recommended to keep your site's security up to date).
Click Save and continue.
On the Drupal installation complete page, click the Visit your new site link.
---