Hiii !! Think N Code teams welcomes you for another article on WP for beginners series you can get along from starting through WordPress for begginners page. We have previously discussed about post, pages and media and this time we are going to discuss appearance tab. This is again one of the most important topic to discuss. Here we will learn what are wordpress themes, what are widgets and whats a menu.
In Short Appearance allow us to manage themes , widgets , menus , and the editor give us the permission to play with the code files of the theme.
What are wordpress themes ?
According to wordpress.org WordPress Theme system is a way to "skin" your weblog. By using a theme you can change the look of your blog. WordPress theme contains template files which bring a graphical interface with a unique design.Wordpress comes with two default themes twenty twelve and twenty eleven.there are many themes available on the net which you can use for your blog by downloading and adding them to your admin panel.  You can change your wordpress theme by going  to Admin panel > Appearance > Themes > Select your theme > Activate.

WordPress widgets?
WordPress widget add content like post, categories  ,tags ,navigation, search to yor sidebars. WordPress widget can be add removed and rearranged into sidebars. Some default widget come with wordpress and some of the widets comes by adding plugins. Some widgets are customizable like  webform, categories,archieves and recent posts.You can configure a Widget by logim to your admin panel > Appearance > Widget > Select the widget from the widget section > Drag it to sidebar .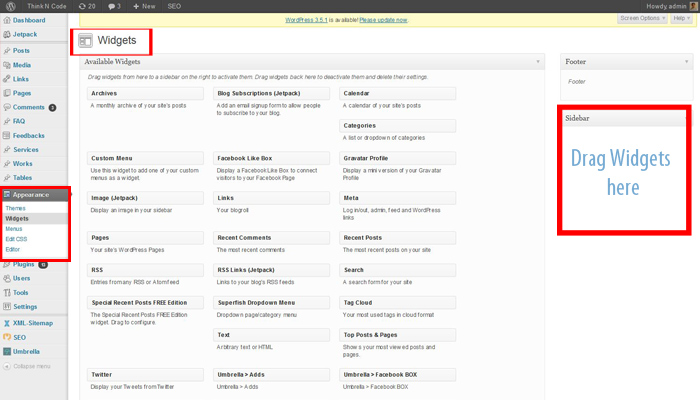 WordPress menu ?
WordPress in-built menu editor allow you to create your own Menu which replace the themes default menu.The only thing you have to do is login to admin panel > Appearance > Menus > Enter name for your Menu > Click Create Menu > Select the pages that you want to add in menu by clicking the checkboxes >Click add to Menu > Click Save Menu.
Step 1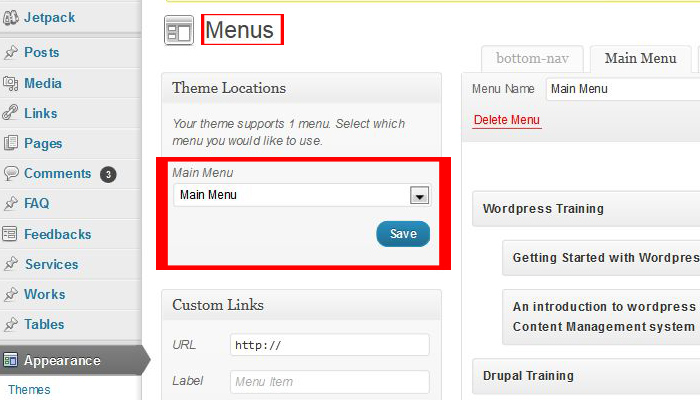 Step 2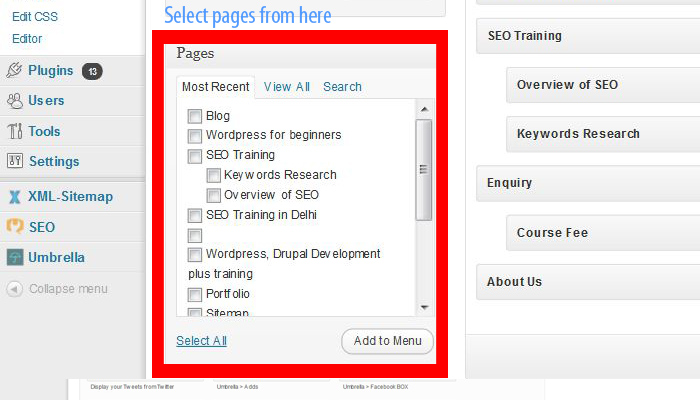 WordPress theme editor ?
A wordpress theme include many template files to generate a web page. WordPress theme editor allow you to edit the template files of the theme that you are using. You can  easily edit template files if you have the knowledge of  PHP ,CSS and HTML .For this login to admin panel >Appearence > Editor > Click on the template file you want to edit > After editing Click update File.